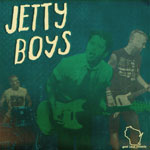 Drew – Guitar/Vocals
Eric – Bass/Vocals
Bunnz – Drums/Vocals
WEBSITE : http://www.facebook.com/thejettyboys
The Jetty Boys formed from the ashes of the Leg Hounds (1998-2004). After about a year of not being in a band, Eric and Drew decided to start looking for a drummer to start a brand new band with. With a hand full of songs ready they began trying out new drummers. They quickly decided on Jon "Bunnz" Mickelson after he proved his ability to execute Bill Stevenson-esque drum rolls. This successful audition came shortly after Bunnz's attack of a defenseless pumpkin in the D.F.C. kitchen where Eric and Drew once lived together (the D.F.C. was the home where the first audition/band practices were held). The first song that was played at this audition was "Empty Handed" which was later released on the Jetty Boys second studio album "Sheboygan".
After 3 months of practicing they officially adopted the Jetty Boys name in Spring of 2007. By late 2007 the Jetty Boys recorded their first demo which ended up being their first official release (Rally! 2008).
Since then the Jetty Boys have gone on to play over 300 shows.